External elements of architecture
Facade glazing
One of the priority directions of the company 'Sloresurs' is the architectural glazing of the facades. Our production specializes in the manufacture of double -glazed windows of complex geometric shapes and structures. The technical equipment of the workshop allows us to produce single and double-glazed windows of different thickness using not only ordinary float glass, but also energy-saving (with a soft coating), tinted, reflex, tempered glass, as well as triplex.
Spider Facades
Spider Facades got its name because of the similarity with a spider. A bracket has a central bracing part and pairs of «feet». A few holes are need to be drilled in glass and panels can be attached with the help of spot holders (Ruthelen) to a bracket. This construction technique gives ability to install glass sheets under any angle and to form smooth curves on the facade. Spider Glazing is also used to form a large flat area. A supporting frame is placed inside the building and the wall turns into a mirror which reflects clouds.
Mullion-transom facade
A Mullion-transom facade system is the most common and basic system for other systems. Its basis is vertical racks and horizontal profiles - girth rails.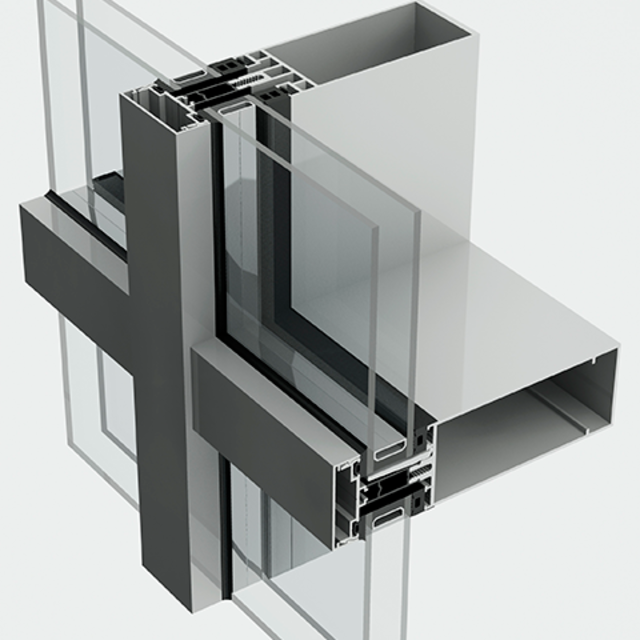 Semi-structural facade
The main feature of this facade resolution is the absence of 50mm clamping and decorative covers. Instead of them we use thing and almost invisible outside clamping covers which actually imitate structural seams. There is ability to install integrated windows in semi-structural form in the construction of a facade that actually plays a role of window blocks. The usage of thermal inserts and sealers let us to install Insulating glass from 28mm to 50mm thickness that meet the requirements of structural glazing.